PreInspectR® Insurance Score: Inspection Optimization
March 16, 2016
Did you know that the concentration of businesses in an area is predictive of potential underwriting concerns in surrounding homes?
We didn't, until we embarked on the development of our inspection optimization model, PreInspectR®. We analyzed that factor, in addition to 50 other policy, home, environmental and geographic variables, for inclusion in our model scores.
We were surprised to discover that many attributes long relied upon by carriers were not the most effective at selecting risks for more intensive underwriting evaluations. Additionally, some others, like concentration of businesses (see chart below), made more effective contributions to scoring accuracy when combined with other, more predictive attributes.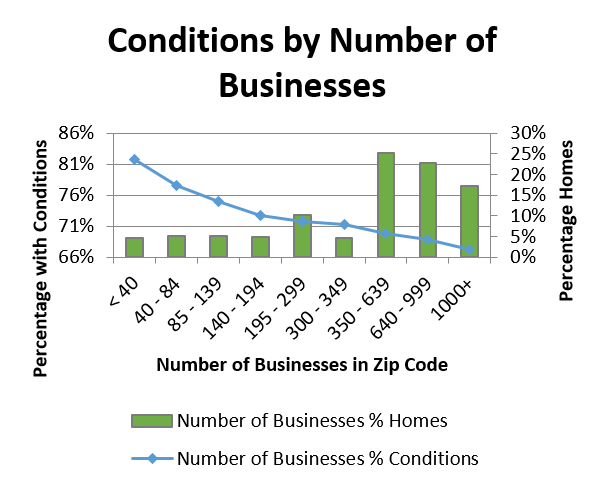 All carriers need to examine their property books on a regular basis, but few have the budget to inspect all of it every year. Relying on traditional attributes like age and total living area is inadequate. Some data and modeling companies have developed expensive solutions that provide scores based on non-property related elements, such as consumer credit. At Millennium, we took a different approach. Our inspection optimization model, PreInspectR, is built entirely on property and geographically relevant data points.
Our model is built with 25 years of inspection knowledge and the use of our robust 12-million-record-inspection database, along with other geospatial and environmental data.
We found that the combination of these data variables in our PreInspectR model were very predictive of underwriting concerns. You can see that in the accompanying chart below, which illustrates the frequency of major underwriting concerns within score segments, each representing 5% of the population of inspections. Note, that looking at the worst scoring 10% of the book would result in an actionable rate of over 65%!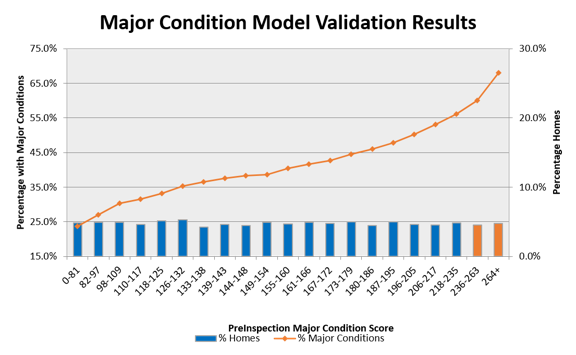 In the two real-life examples below, you will see that these companies could look at 10% and 20% of their book and have an actionable rate on Major Conditions of at least 66% and 71% respectively, based upon the PreInspectR scoring algorithm.
From an economic perspective, PreInspectR helps identify those properties that have the highest probability of having issues that need either remediation or cancellation, ensuring the avoidance of a claim in the future. It also assists in the identification of properties that have ITV issues where a coverage and premium increase is necessary to generate a healthy ROI.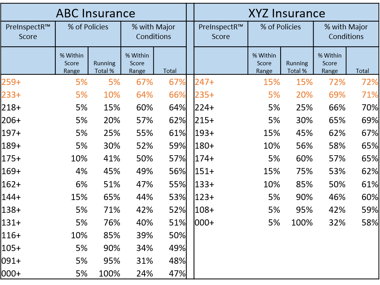 The process for scoring a book using PreInspectR is simple. All that is required is five specific property characteristics from each policy. The scores produced for each property will indicate the likelihood of condition hazards and/or ITV concerns. This allows you to focus on those properties with the highest scores, which in turn will have the highest actionable rate. Using this approach, PreInspectR allows you to target a portion of your book where you can maximize the results and effectiveness of budget resources.
Millennium is pleased to offer this powerful tool as part of our included service, at no fee to our exclusive clients.
Whether it's inspection optimization models, MAPS advanced inspection workflow technology, a quality support structure, surveys or data analytics, Millennium Information Services has everything your company needs to truly understand your book of business.